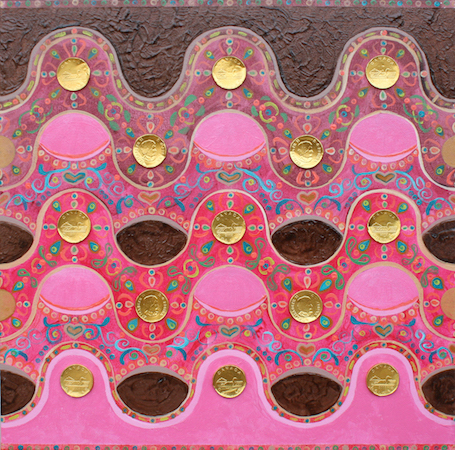 Art Available Now at Arts Aqui - Calgary
Abstract Art Canada: Holiday Special Offer!
Fun Money: Unwrapped – Edition of 10
Debbie.lee Miszaniec, 2021
4.5″ x 5.5″ x 1″
Acrylic paint on wood, fabric, ink on kraft paper, inkjet print on paper.
It's an edition of just 10 signed and numbered original hand painted sculptures (and personal aids to unwrapping your own feeling about money).
Available as my gift to you with a purchase from my Fun Money series of paintings through Abstract Art Canada this holiday season, now – January 1 2022. 
 Visit Abstract Art Canada Online before January 1 2022 to  make a purchase!
After my mother sent me this beautiful bouquet of flowers for Mother's Day this year I decided to do a painting of them for her for Mother's Day. I titled this one Mothers Day, instead of Mother's Day, because in a way it was for both of us as mothers. I painted it live on Facebook and Instagram, my first ever live feed painting videos. Later this year I will be editing those recordings into a single video and posting it here, to Youtube and Social Media.
Covid-19's silver lining to staging shows in venues closed to the public? The necessity to develop virtual exhibitions: Visit the new gallery page to see the rest of the paintings in this project. Follow the links to the virtual exhibition and closing reception recording, which are still available to view online.
Want more news? Visit the Blog: